Planning for Tomorrow Today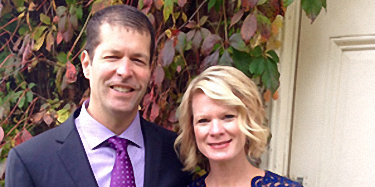 For Suzanne and Corey Mineck, giving back to the community is a core family value. "Corey and I believe the best way to be part of a community is through participation, rather than observation. In our family we feel giving back is a point of obligation and a point of immense joy," shares Suzanne. As the couple began to update their will, they made it a priority to establish a legacy fund with the Community Foundation to share the joy of giving beyond their lifetimes.
"When we began to review our estate plans, it became clear that the Community Foundation would be the perfect partner. We wanted to ensure we were incorporating charitable giving in a way that was as simple as possible and could evolve with our giving interests over time. A legacy fund with the Community Foundation fit our needs perfectly," shares Corey.
According to Suzanne, "Our giving comes from a place of immense gratitude. While we have worked hard, we have also been greatly blessed. Thanks to our trusted relationship with the Community Foundation, we are assured that we have a partner in place to continue to foster our joy, and sense of responsibility, to give back to the community that has given our family so much."
"The Community Foundation was an obvious partner. In many ways the Community Foundation has become an extension of our family thanks to the level of trust we have in its ability to realize our charitable wishes." - Suzanne Mineck